Costs & Financial Aid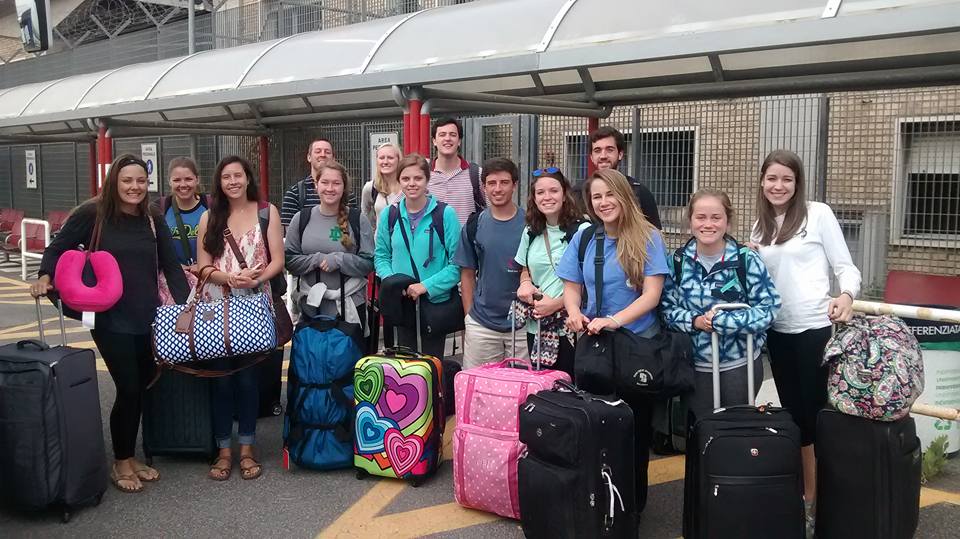 If you're interested in studying abroad, we don't want financial matters to deter you. In fact, you may be surprised to learn that the cost for most of our semester study away programs is comparable to being on Furman's campus. We also allow you to apply your financial aid to many of our programs. Contact us with any questions you have about the costs associated with a study away programs.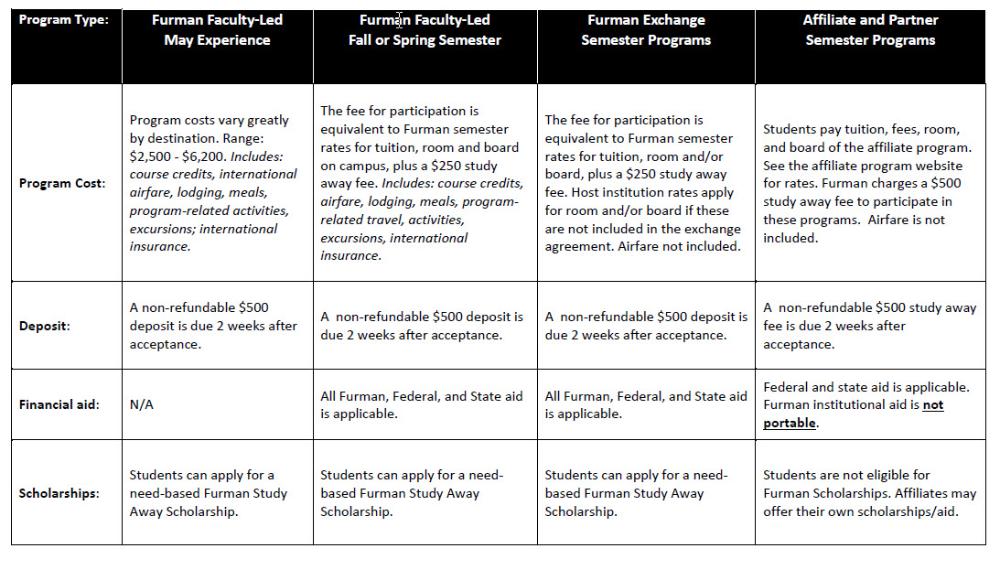 The cost of our faculty-led semester program is about the same as a semester on campus. The only additional fee is a $250 administrative fee. This will cover your international airfare, program travel, and room and board. The best part? All of your financial aid and scholarships can be applied toward a semester faculty-led study away program. If you have additional need, you may apply for a study away scholarship. Students should note that the initial deposit, and any interim payments must be paid out of pocket in advance. Your deposit and interim payment will be applied to your total program costs and appear as a credit on the final bill for your study away program.
The price for a May Experience trip varies, depending on the program. Check with the faculty director leading the trip to learn about the program costs. Need-based scholarships are available for May Experience programs.
The tuition for a Furman exchange program is the same as on campus, with only a $250 administrative fee. Room and board may be included in the exchange, in which case, your costs will be comparable to being on campus, or you might pay room or board costs directly to the host university and your options will vary. Airfare is an additional cost. Most financial aid can be transferred to an exchange program. You may also apply for a need-based study away scholarship.
We work with select universities and institutions to offer additional academic programs abroad. Costs for Furman affiliate programs vary depending on the opportunity you select. You'll be billed through Furman for the actual cost of the program plus a $500 administrative fee. You can transfer federal and state financial aid to an affiliate program, but not Furman scholarships. You may be able to apply for scholarships offered directly through your affiliate institution.
If you choose to participate in a study abroad program unaffiliated with Furman, the host institution will determine the tuition and fees for the program. You will need to take a leave of absence from Furman, and you won't be able to transfer your financial aid or scholarships.
Every year, Furman offers need-based scholarships to students participating in a study away program. Short-term interest-free loans are available through Financial Aid, and external funding sources are also available to help with study away costs. Apply for a scholarship.
Your housing options will vary, depending on the academic term and the duration of travel. Most housing costs are included in the total program fee. However, if you choose to reserve a room on campus while you away for a semester, this would be an additional expense. Find out more from Housing and Residence Life.
Want the bottom line? For your convenience, we have created a Study Away Cost Comparison so that you can quickly estimate the total cost of your study away trip, from tuition to souvenirs.
Check your financial agreement for the specific deposit amount and due date required for your program. Your deposit will be applied to your total program costs and appear as a credit on the final bill for your study away program. Learn more about payment options.
Additional information regarding costs and financial aid can be found in the Student Study Away Handbook.